radio days
Radio Days
Not only luthiery…
Fixing, modifying and manufacturing musical instruments is a stimulating and rewarding activity,
but we must never forget that they' re tools; things to make music with.
I'm taking the opportunity with this article to introduce a new section of this blog, dedicated
to those among my clients and friends who have made music their job.
Today we' ll be talking about Radio Days.
http://www.myspace.com/radiodays
http://www.insubordinationrecords.com/
Radio Days live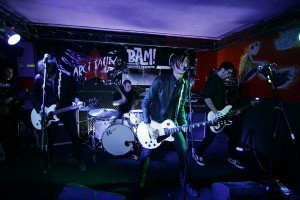 We're an italian power-pop band active since 2003. We all come from the borderland between Tortona and the Oltrepò Pavese but for many reasons two of us now live in Milan. In the last five years we toured Italy, Austria, Germany, England, Denmark, Sweden, Spain, Czech Republic and Hungary. We had the chance to spread the "power-pop plague" and share the stage with great international bands such as our living myth Paul Collins, Marky Ramone, Rakes (UK), Chixdiggit (CAN), M.O.T.O. (USA), Mcrackins (CAN), King Brothers (JAP) and many more. We also played with some of the best Italian indie bands like the Mojomatics, Suinage, Leeches and Tunas.
We have four releases under our belts: two split cds (one on cd and the other on 7" vinyl), a LP issued in 2006 by Roman label Goodwill Records and a new EP issued by American label Insubordination Records.
We' ve known Raffaele for two years now and we have an ongoing partnership with him: he regularly takes care of the setup of our instruments which are continuously put to the test by the constant touring (humidity, scratches and countless bumps). Every time we are about to enter the recording studio we ask Raffaele to setup and check the intonation of our guitars and bass, which he always does by the book!
We recently asked him to customize the scratchplates of our instruments; the results are great, they actually speak for themselves, just take a look at the pictures.
What we wanted were pitch black scratchplates to apply to our white instruments."
Well guys, thank you for the advertisement!
We' ll do anything to make our customers happy!
See ya and good music!