Gae Manfredini
I' ve known Gae for several years, we met at one of the first music trade
shows I was attending with the by then newborn Axefactory. The passion,
curiosity and enthusiasm for all things guitar were so strong for us that you
could actually touch them.
It was definitely a lucky chance meeting that blessed me with a friend,
collaborator, excellent advisor and superb lead guitarist – all in one guy!
That period was when we made the GM model.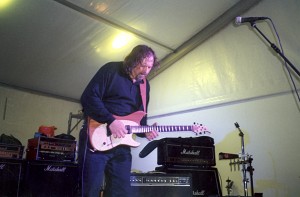 Gae has always had a very active role in this project, from choosing the woods
(honduras mahogany body, flamed maple neck, 24 frets ebony fretboard) to the
hardware (wilkinson sure claw, sperzel locking tuners) and finally the shape of
the body and Gibson old style back of the neck.
The success was immediately evident and Gae recorded his following cd,
instrumental treatment
with the resulting guitar.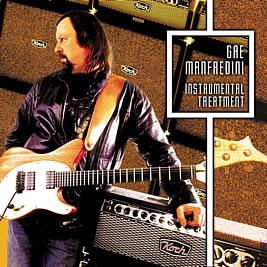 During the last months we have re-styled that same guitar. After having been
put to good use for years on many Italian stages, a refit was much-needed.
Gae chose to go for a nitro sunburst finish, preferring lighter shades. We
performed a complete re-fret and swapped the two Seymour Duncans in favour of
more modern Mama pickups, a feature of all our instruments.
SRA Axefactory GM model
GM model
SRA Axefactory GM model back
My pat.: System for fixing the neck onto the body of stringed instruments United States Patent 5973242
Shaller sure claw
mama pickups and silver shield coat
double wafer 5 way switch
Gae Manfredini & Axefactory GM Model
What can I say... another mission accomplished!

See you soon Gae!